Joined

May 22, 2023
Messages

8
Reaction score

3
Dear valued users,
We extend our sincere appreciation for your unwavering support of Gname. In recognition of your trust, we are thrilled to introduce a special domain transfer extravaganza! From now until December 12, 2023, seize the opportunity to transfer highly sought-after domain extensions, such as .com, .net, .cc, .org, .xyz, .icu, .cyou, at remarkably competitive prices. Simplify the process of transferring your preferred domain and embark on an even more exciting online journey!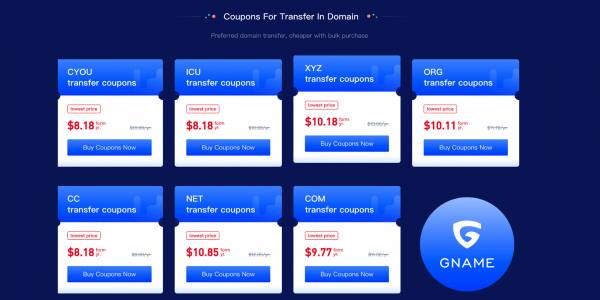 Event Details:
[Access the coupon link here]
1. Key Features of the Promotion:
In this event, we are offering domain transfer services for a diverse range of popular extensions, each presented at astonishing registrar cost prices. Don't miss these fantastic deals:
.com Domain Transfer Promo Price: $9.77
.net Domain Transfer Promo Price: $10.85
.cc Domain Transfer Promo Price: $8.18
.org Domain Transfer Promo Price: $10.11
.xyz Domain Transfer Promo Price: $10.18
.icu Domain Transfer Promo Price: $8.18
.cyou Domain Transfer Promo Price: $8.18
Coupon Details:
Usage Period: The coupon is valid for use from November 10, 2023, 00:00:00, to December 12, 2023, 23:59:59. Kindly note that it becomes void after expiration and cannot be refunded or exchanged.
User Limitations: The coupon is exclusively reserved for purchases by our site's distributor users, available at registrar cost prices, ensuring no commission or rebate is applicable.
Limited-Time Offer: This coupon is part of a limited-time promotion and does not support extensions. Please ensure usage is completed within the validity period.
Usage Guidelines: Coupons cannot be transferred or gifted and can only be used within the corresponding user account.
Automatic Consumption: The coupon supports automatic consumption; there is no need to specify it separately in the shopping cart. The system will automatically prioritize the use of the coupon!
In this digital era, a valuable domain is integral to the success of your endeavors. We appreciate your ongoing support of Gname and eagerly anticipate expanding your online horizons during this exclusive domain transfer event. For any inquiries or additional details, please feel free to contact our dedicated customer service team.
Once again, thank you for your continued support and attention! Click
[here]
to access the coupon, and we wish you a seamless and enjoyable domain transfer experience!
Last edited: